MRC Featured on European Society For Hybrid, Molecular and Translational Imaging (ESHI) Website!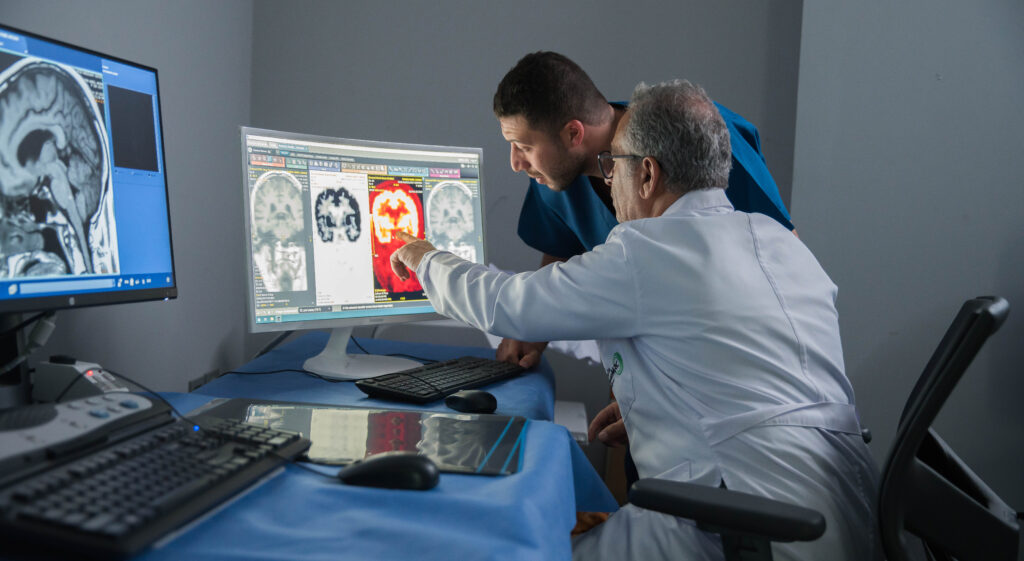 Misr Radiology Center (MRC) has always been at the forefront of the of Radiodiagnosis, nuclear medicine and Interventional Radiology in Egypt, and has always been keen on introducing the state of the art technology and advanced techniques from all around the world to Egypt.
Historical Background:
Misr Radiology Center was established in 1989 and is staffed by a renowned group of Professors of Radiology and nuclear medicine at the Faculty of Medicine, Ain Shams University, and other distinguished universities across Egypt.
Over the past years, MRC has been offering fully fledged medical imaging services and has been the epitome of the best experts in the field of medical imaging.
Our Mission:
To provide the highest standards of medical service in the field of Radiodiagnosis, Nuclear Medicine and Interventional Radiology to patients through scientific excellence, advanced medical equipment and highest quality of medical consumables.
In pursuing this mission, our newest branch is offering the most advanced machines that are being introduced for the first time in Egypt, Africa and the Middle East, including PET/MRI machine.
5 Questions to Prof. Dr. Yasser Abd El-Azim Abbas, M.D., Ph.D.
Dr. Yasser Abd El-Azim Abbas is is the co-founder of the Misr Radiology Center where he is the head of the MRI section. Moreover, since 2002, he is professor of radiology at Ain Shams University and head of the neuroradiology section at the faculty of medicine of Ain Shams University.
You have recently acquired and installed the very first PET/MRI system in Africa. Why did you go for PET/MR and what are your expectations?
We're the leading diagnostic private centre in Egypt, especially when it comes to PET/CT and MRI examinations. MRC has always been keen to adopt the newest and most advanced machines as well as the most advanced technologies in high-end MRI applications and nuclear medicine applications, as we were the first site in Egypt to introduce 68Gallium tracer studies and 177Lutetium therapies.
Being the pioneers in both modalities, this pushed us to pursue the latest PET/MRI technology to combine all our experience and knowledge in a single machine.
We're always aspiring to provide the best medical service to our patients and clinicians, and PET/MRI provides us with the perfect tool to serve this purpose through its one stop shop exam combining high-end MRI exam using conventional MRI, pre and post contrast, diffusion, perfusion, spectroscopy and susceptibility when applicable along with PET data using the different tracers available according to patients disease.
How do the perceived benefits of this hybrid system outweigh its costs?
The ROI was straightforward for our cancer patients, as usually the clinician requests high-end MRI exam and PET/CT exams separately which consumes more time, money and effort. In comparison, PET/MRI provides one holistic exam, requiring one appointment and one-time preparation, and thus saves time and effort.
In addition, the benefits of better registration of images with more accurate localisation and characterisation of the lesions leading to accurate assessment of the whole disease burden specially in TNM staging (I.e. local tumour as well as the nodal and metastatic status).
We do not only think that the benefit outweighs the cost, but also allows us to go the extra mile of assisting the clinicians to put the patients on the right track of treatment as early and as efficiently as possible.
Also adding the great value of markedly reducing the radiation exposure to paediatric and adult patients who need to do regular follow up exams to monitor their disease for a long period of time with increased radiation burden.
Where do you see the most promising applications for PET/MRI at your site and in general?
Neuro applications: epilepsy, dementia, brain tumours whether primary or secondary, inflammatory/demyelinating diseases including vessel wall imaging.
Body: major cancers (I.e. breast, prostate, rectal, liver, pancreatic, renal, NET).
Head and neck cancers.
MSK: bony and soft tissue tumours and pain localization studies.
How does your centre work with hybrid imaging? And how do radiologists and nuclear medicine physicians collaborate?
In our centre, it's a collective effort and teamwork collaboration to produce the best results for the patients and clinicians. Every PET/MRI case is interpreted by highly experienced MRI radiologists with over 15 to 20 years of experience, each in his/her own subspecialty whether neuro, body, MSK, head and neck etc, as well as specialized PET and nuclear imaging physicians, in addition to computer scientists and physicists helping us along the process.
In your opinion, what will the future hold for hybrid imaging?
Hybrid imaging is well suited for the present and future examinations with its advanced ability of providing one stop shop exam offering the highest quality and the most accurate data, especially for cancer, epilepsy and dementia patients.
So hybrid imaging will continue to grow, and this would need more physicians to be able to interpret these advanced combined exams. Radiologists and nuclear medicine physicians need to work together more and we need to encourage and promote the development of hybrid subspecialty where radiologists and nuclear medicine physicians can join, to be trained to interpret, at least the main parts of both sides of the examination.
Last but not least, hybrid imaging will be a great asset in the era we are entering into, where artificial intelligence specially deep learning and its vast applications, coinciding with molecular and genetic evaluations for various diseases are becoming a crucial part of diagnosis, treatment and follow-up, specially for cancer patients.
Available at New Cairo Branch: Off 90 St., by MRC Square, Between Air Force Specialized Hospital and Lake View Compound
+228124280/1/2/3
Whatsapp: +201228325070